Data & Privacy
No jargon. Just plain, straightforward language. In brief: my website uses minimal cookies, and any visitors (that's you reading this) are able to opt-out of almost any kind of cookie (see right below on the two that may be required), tracking or data-sharing technologies. My view on privacy and data is simple: unless you tell me you want to share something, I don't have the right to collect it.
Ghost: The Backend That Powers My Website - What it Collects
The backbone of this website is Ghost. By default, Ghost does not utilize any cookies or pixels to collect visitor data, and does not provide any form of website analytics – those are things like your referral source (what website or app you came from), approximated location, view counts for pages, etc.
The one exception to what I wrote above is if you decide to subscribe and become a member. In order for Ghost to remember who you are as a user/member, it does store a cookie so you don't have to continually provide a username and password and get logged out. Similarly, since I'm the adminstrator/owner of this website, I accept a cookie to view the website in private mode to preview and debug settings, posts and pages without the need to continually relogin to my website.

How Does My Data and Privacy Change Once I Opt-In and Become a Subscriber?
If you decide to become a subscriber, you will share your name and email address. This is for two reasons: one, I need your email to send you blogs when they're released and other site-related updates, and two, if you decide to be a paying subscriber, Stripe, which collects your payment, requires your name and email address to process your payment.
For subscribers, Ghost collects the following information automatically:
How many emails sent to you
How many emails you opened
Your average open rate (emails opened / number of emails sent)
What posts or pages you've viewed on the website
When you subscribed and when your subscription renews
Currently, Ghost does not allow me to change any of those subscriber-related settings. Even though you've opted-in, your welcome to hide your email open activity by using something like DuckDuckGo's Email Protection service.
Website Analytics - Opting In (or Out) and What's Collected
For website analytics, this website use Piwik, not common technologies like Google Analytics. The first time you come to the website, you'll see a consent box. If you don't provide consent, Piwik will not collect any information about your visit. That decision will be remembered for 1 year, provided you don't delete the cookie tied to that decision – otherwise you'll keep seeing the consent box.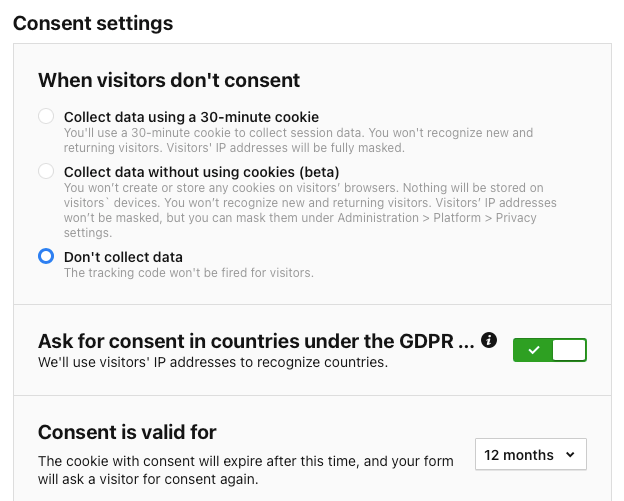 If you provide consent, Piwik provides information on things like the referring website (if any), time spent on pages, pages viewed and more. You can find a list of what's tracked by default here. I don't collect any kind of personally-identifable information (PII) via Piwik.

Affiliates, Promotions and Other Forms of Advertising
As a benefit to readers and subscribers, I provide things like referral or promo codes to get discounts on products. If you decide to make a purchse with one of these links or codes, a recieve a percentage of the sale and you receive a discount on the normal price. I do not receive any PII or information about who bought what products.
If you subscribe to the website, your email address and name will never be shared with any affiliates. I know how invasive (and annoying) it can be to have your email address sold or shared with another company without your permission.